! version 190827>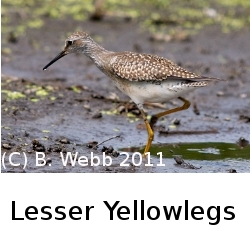 August Bird Walk - Zeloski Marsh Reprise

---


We revisited Zeloski Marsh during our August walk. We were looking for late summer birds and especially shorebirds. We found both! The resident Ospreys kept us under observation during the early portion of the walk. Swallows abounded (see the list, below). We did find shorebirds at the northern impoundment. All in all, we met our goals and had many interesting birds to observe. A full list of species seen follows.

If you couldn't be with us for this walk, we hope you'll join us for our September walk. That will be our last regularly scheduled walk for this season! We'd love to see you there.


---

Lake Mills SWA--Zeloski Marsh, Jefferson, Wisconsin, US
Aug 17, 2019 8:50 AM - 12:12 PM
Protocol: Traveling
2.0 mile(s)
Comments: 65; partly cloudy; v. light breeze (start) to 75; mostly sunny; v. light breeze. Jefferson-Dodge Birding Walk. West and north from London Rd. parking lot, circling the south pool clockwise. 1 green frog; several species of butterflies, including monarch and silver-spotted skipper; only a few dragonflies (fewer than 10).
39 species (+3 other taxa)


Canada Goose 14
Wood Duck 1
Blue-winged Teal 100 Or more (counted 85 on the SW pool).
Mallard 70 Or more, all but one on the west central pool.
Hooded Merganser 6
Pied-billed Grebe 2
Mourning Dove 7
Chimney Swift 2
Sandhill Crane 5
Killdeer 2
Pectoral Sandpiper 1
Semipalmated Sandpiper 6
Greater Yellowlegs 1
Lesser Yellowlegs 1
Greater/Lesser Yellowlegs 3
gull sp. 6
Black Tern 2
Double-crested Cormorant 7 Flock flying.
Great Blue Heron 1
Green Heron 1
Turkey Vulture 4
Osprey 2 Both adults, no young anywhere in the area.
Downy Woodpecker 1
Empidonax sp. 1 Likely Willow Flycatcher, actively hawking insects from a boxelder. No eyering, distinct wingbars, no vocalization.
Eastern Kingbird 2
American Crow 6
Black-capped Chickadee 1
White-breasted Nuthatch 1
Northern Rough-winged Swallow 1
Tree Swallow 40 Or more.
Barn Swallow 5 Probably many more.
House Wren 5
Gray Catbird 1
Cedar Waxwing 9
American Goldfinch 17
Song Sparrow 9
Red-winged Blackbird 4
Common Grackle 1
Common Yellowthroat 2
Northern Cardinal 2
Rose-breasted Grosbeak, female 1
Indigo Bunting 5 At least 3 of them singing.


39 Species seen.